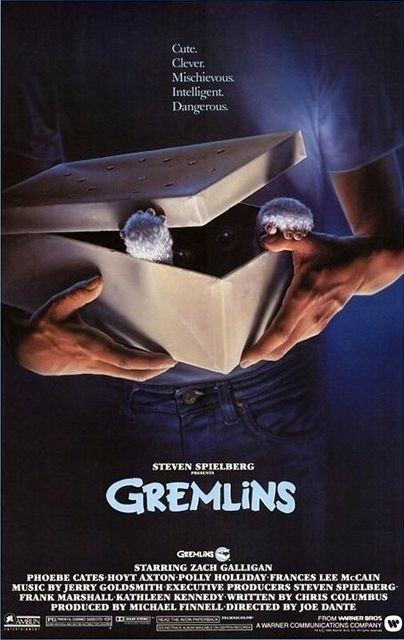 Percent in movie 80 percent

This film scared me this first time I saw that I wanted not to review it. Two years later I will try to review since it scared me when I was about twelve years old. It's not that scary as people think.
The movie is about a inventor named Rand Peltzer (Hoyt Axton) who gave Billy a creature for Christmas Rand gives a pet named Gizmo (Howie Mandel). Rand told his son Billy (Zach Galligan) that there were three things you should never do to with this creature. First, you do not keep out of bright light. Second, keep this creature out of water. Finally, you never feed the creature after midnight. The family breaks all the rules for Gizmo. The punishment for using bright lights is the creature gets very scared and it could destroy Gizmo. The punishment for using water is doubling Gizmo's babies into bad creatures . The punishment for feeding this creature is it turn to a gremlin. A gremlin is a reptilian creature with sharp claws and sharp teeth.The gremlins like to kill people at the night time.
The acting was okay. There no
one in particular who did a great job acting in my own opinion.movie with comdey usually need chessey acting from the stars and it was better than most reveiws I hear about in a horror movie. The gremlins were extremelly memborable for their two apperances in movies.
The screenplay is extremelly unique and the horror creature were new when it started and still is unqiue for most horror fans. It different than your regular horror movie because it's family friendly which is rare for today's horror movies in general. The quotes were cute and funny at the same time. They did a excellent job in screenplay.
The directing from Joe Dante was excellent. The movie blended horror and comedy perfectly.
The plot was very somewhat the same story for other horror creatures, but they did a excellent job making the plot unique instead of the same horror creature story all over again. I love that they have three rules for keeping Gizmo.
It is a great and creative horror movie.