Rating for film: 50 percent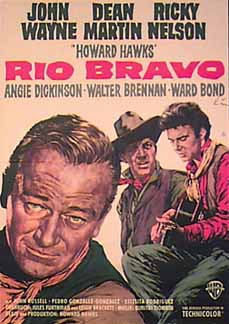 This movie is about a sheriff named John T. Chance (John Wayne) is trying to arrest Joe Burdette (Claude Akins) before the cattle baron's brother named Nathan Burdette (John Russell) escape with him. His deputies are Pat Wheeler (Ward Bond) a waggoner and Stumpy (Walter Brennan)Another one of deputies is Dude (Dean Martin . Pat Wheeler introduces a young gunslinger who guard Pat's wagons named Colorado Rocky (Ricky Nelson).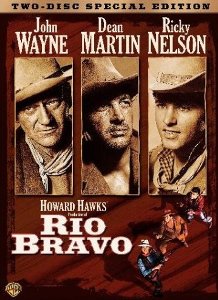 The plot was pretty usual from all the western movies I seen, but it is still a overrated film that has a okay story. What I mean with the plot is pretty usual is like something like this example on the next sentence. Sheriff needs help catching this certain person who escape or they want revenge or something that happened to them. That's what I mean when the plot is pretty usual most western movies I've seen in my lifetime.
The acting was okay. There weren't anyone who was impressed me the most in the films. The acting was average. One the complaints I've have with John Wayne is he always seems to get the same role for almost every single movie. I think John Wayne should of have more variety in the movie genres that he didn't act in instead of the western genre almost all the time. Another compliant I've have is we didn't learn that much about the supporting characters and we don't really care about the characters too. All we learn about the hotel manger named Carlos (Pedro Gonzalez- Gonzalez) is he has a wife and he owns a bar. Is that how we learn about the supporting character and care about the character? I don't think so.
The screenplay was something that most John Wayne movies would say in it. The quotes was like this. "You're arrested and their nothing you can do about it", said some John Wayne character. That's what the screenplay was like in some of the movies John Wayne does in the western genre. I wish writers though of something more creative than that.
The main massage for this review is don't have high expectations unless you love westerns with the same plot and same story. That all the movie has to offer in the classical movie section.